Get link

Facebook

Twitter

Pinterest

Email

Other Apps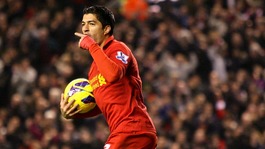 Suarez keeps the match ball...


Image:

itv.com
A well-oiled Liverpool side put 4 past Roberto Martinez's Wigan on Saturday and took all 3 points from the DW. Stewart Downing headed home Liverpool's first making it only his second league goal for the Reds and Luis Suarez was left to work his magic scoring a hat trick in great style.
There was no Daniel Sturridge for the Reds and once again Jamie Carragher was preferred in defence to the out of favour Martin Skrtel. Looking back after the result it makes you realise that there could have been even more goals because Sturridge would have surely found the back of the net in that game, we're in a comfortable position for a change when it comes to attack.
It only took the Reds a couple of minutes to get off the mark and it was Phillipe Coutinho impressing the masses. Some lovely skill from the ex Inter Milan player allowed him to play in a lovely cross to an awaiting Stewart Downing, the presented header was too easy to miss and Liverpool were 1-0 up.
Liverpool's second goal was even more impressive. Just before the 20 minute mark Coutinho found himself in possession once again, a lovely bit of play making allowed him to create enough space to set up Luis Suarez who timed his run perfectly and slotted the ball home for his first of the evening.
I was the first to admit that I couldn't forge an opinion on Coutinho when we signed him because I'd barely seen anything of him but for a small chap he ain't half bad!! Haha.
Following Liverpool's second goal Wigan managed to apply some pressure of their own. Shots from Boyce and Kone provided real danger for the Reds but some superb goalkeeping from Pepe Reina kept Liverpool very much in control of the game.
If Wigan had converted their attempts they may have thrown Liverpool off guard and so it was important the Reds kept their momentum, luckily, Luis Suarez knew exactly what to do when he was presented with a free kick after being taken down by Caldwell.
The Uruguayan has been immense this season and you can't help but feel confident now when he steps up for a free kick. Despite slipping over Suarez managed to curl the ball into the back of the net with the aid of a deflection. The Reds were now 3-0 up and it wasn't even half time.
Liverpool looked extremely comfortable when the half time whistle was blown and even when Wigan did find a breakthrough the defence and the brilliant Pepe Reina were dealing with any danger. With 45 minutes still to go Liverpool could almost relax but they weren't quite finished yet.
Only 3 minutes into the second half and the Reds found their final goal of the game. A bursting run from Glen Johnson allowed him to play in Luis Suarez who ran at keeper Al Habsi and ended by poking the ball between his legs and into the back of the net, it was a brilliant finish.
Luis Suarez is now top goalscorer in the league and it's nothing short of what he deserves! He's been superb this season and no matter what people say about him, they can't deny his sheer talent on the pitch.
Liverpool made it to 90 minutes without conceding and the reaction from the fans said how pleased everybody was with both the performance and the result. Ok, we have to keep in mind that this was Wigan (no offence to them of course) but it's encouraging to watch Liverpool put in two very good league performances in a row, all that's left now is to push as hard as we can and see what happens in the league so here's hoping it continues until the end of the season.
Next up for the Reds is Tottenham!
Get link

Facebook

Twitter

Pinterest

Email

Other Apps