Steve McManaman is one of the Liverpool players that were around in the era that I began learning everything about Liverpool Football Club. Most people will know now that the reason I ended up supporting Liverpool was down to a brother who was obsessed with them at the time. Despite being only 10 when McManaman left I remember watching several games with my brother praising his every move but it appears that many younger fans these days and neutrals alike have no idea how good McManaman actually was, he separates opinion when it comes to his personality but he truly had a gift on the field.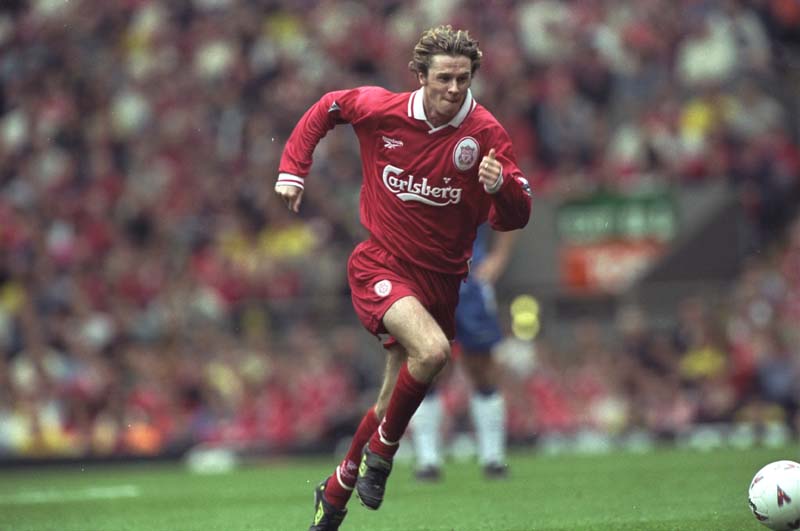 Image:

goal.com
The Basics
Full Name:
Steven McManaman
Date Of Birth:
11th February 1972
Born in:
Kirkdale, Liverpool
Height:
6ft
Position:
Attacking Midfielder
Personal Life
Before signing his first contract with Liverpool McManaman was a much praised cross country runner, he even beat a former Olympian at one stage on the circuit.
Many people often forget that Steve lost his mother during his last season at Liverpool, she lost her battle with breast cancer after being bed ridden for over 2 years. I always think it is important to bring these posts back to a personal level sometimes people forget that a football player at the end of the day no matter how much money they are on, is human. The closing stages of his time at Liverpool were not always the most supportive for Steve and I think considering how long he had been at the club and some of the things he was subjected to, he reacted with dignity.
In 2002 McManman married his girlfriend Victoria Edwards. The couple have three children Ella, Lara and Lucas. The family have three homes in Cheshire, London and the bay of Palma.
It is also well known that McManaman and Robbie Fowler have a company; The Macca And Growler Partnership that invests in racehorses. McManaman's interest in the animals perhaps stemming from a grandfather who was a bookmaker.
Steve is also apparently a distant relative of the Wigan player Callum McManaman according the The FA.
Liverpool Youth
Like so many Liverpool greats, unfortunately Steve McManaman grew up as an Everton supporter. When it came to choosing where to start his footballing career though his Dad helped Steve make the decision and a schoolboy contract with Liverpool was selected. McManaman impressed quickly in his early days and it wasn't long until Kenny Dalglish called him up to the first team in 1990.
Liverpool FC
McManaman made a total of 272 appearances for Liverpool scoring 46 times.
McManaman made his first Liverpool debut coming on as a sub against Sheffield United at Anfield. McManaman had to settle for a few more appearances as a sub before he finally got to feature in Liverpool's starting XI. This privilege came against Oldham Athletic under new manager Graeme Souness in 1991. McManaman's first goal for Liverpool came against a team he would later player for; Manchester City. His diving header wasn't enough to find Liverpool a win though as the Reds lost that game 2-1.
In Steve's first full season for the Reds he played a total of 51 times and found the back of the net on 10 occasions. The highlight of his inaugural season though was perhaps the FA Cup win in which he assisted the second goal, Liverpool beat Sunderland 2-0 and McManaman was awarded man of the match.
Steve McManaman at Liverpool was one of the most exciting, if not the most exciting of his era. He was a truly talented, English winger, he was never afraid to break through a defence and seemed to thrive on the challenge. He was pacey but most importantly he had amazing stamina, he never stopped and never gave up. For the people quick to criticise Steve, he was often questioned about his crossing and goalscoring. This particularly reached a height during an extreme dry spell when McManaman failed to find the back of the net in 363 days. It was during this period that the infamous bust up between himself and Grobbelaar occurred.
When Roy Evans took the managerial hotspot in 1994, he was determined to get the focus back on McManaman and try to support him anyway he could, it was Evans' decision to field the winger in a less constricted position and this seemed to appeal to Steve. McManaman topped off his magical season of mazy runs with a League Cup win. The 1995 final against Bolton saw Mcmanaman score both goals, one in the first half and one in the second. Bolton found a consolation goal but the Reds picked up the trophy with McManaman collecting another man of the match award for a final. This clash is often nicknamed "The McManaman Final" I distinctly remember by brother referring to it as that when I got older, I was only 6 for this final, bless!
McManaman only grew stronger in his new free role under Roy Evans and this is when the world really began to sit up an notice what a star he really was. Several big names jumped to praise Steve in his time at Liverpool. Ian Rush once described McManaman as "the most promising young player at Liverpool" and Kevin Keegan once said "there are few finer sights in world football than the sight of Steve McManaman running down the length of the pitch."
McManaman had proved that he was one of the best midfielders around, he could switch from wing to wing with ease and also proved very useful sitting behind the forwards. He was always a very passionate player and strived to get his side going when the gods were against them. It was no secret that McManaman had become such a force in a Red shirt that the opposition would now almost always deploy somebody to mark him throughout the 90 minutes, Bryan Robson once said "If you stop McManaman, you stop Liverpool." the thing was though, you couldn't stop him.
The next big final for McManaman and Liverpool was the 1996 FA Cup final. Unfortunately it wasn't a man of the match award that encouraged people to remember McManaman for this final, it was that horrid white suit...
The Spice Boys as they were dubbed turned up to this final all in white, this came at a time when the likes of McManaman and his partner in crime Robbie Fowler were being criticised for their flamboyant lifestyles outside of football. Some may say they were just doing what any normal lads their age would do, others would describe it as being very disruptive to the team as a whole, either way the press were loving all of the commotion at Liverpool.
In the 1997/1998 season McManaman scored 12 times. His most remembered though was a goal against Celtic in another UEFA Cup run for Liverpool. It's not brilliant quality but the video below really gives you a sense of how good McManaman was.
In the summer of 1997 Liverpool were facing the prospect of losing McManaman despite Steve himself saying he was quite happy where he was to begin with. Barcelona came in with a bid but that ended in disaster when nobody met McManaman in Spain and Barca appeared to have snubbed him for Rivaldo. An offer from Juventus later in the year was then rejected by Liverpool. 1998 saw McManaman named as captain but with facts emerging that Liverpool were unable to match the sort of wages McManaman would get if he left on a free, debates began to ignite. Some people agreed that McManaman deserved to play in the best sides in the world and at this point Liverpool weren't playing to their best. Others took the opinion that he was just being greedy either way eventually Steve admitted he wanted to play abroad.
Real Madrid
In January 1999 Steve McManaman passed his medical for Real Madrid. He became the highest paid English footballer at that point but did not pose in a Real shirt as most signings do, saying that he didn't want to out of respect for his former club. This of course was a "pre contract" and McManaman still had months left at Anfield under Houllier.
The last few months at Liverpool weren't brilliant for McManaman, he was out of favour now really as Houllier began to strengthen his team, making sure they could cope without the departing McManaman. The result meant that Steve came on as a sub quite often, he also suffered some injuries and had to deal with some sections of the Liverpool fan base calling him a traitor. In fairness, McManaman took his criticisms on the chin. Despite all the ups and downs McManaman notched up an assist in his last game for the club and at the final whistle he did receive a standing ovation.
Real Madrid being the money splashers that they are weren't as interested in Steve McManaman originally as everybody thought, he soon changed their opinions though. McManaman made his debut for Madrid in August 1999 against Mallorca. He scored his first goal in Real Madrid's next fixture against Numancia.
Despite a promising start the FIFA Club World Championships saw a stain created on McManaman's Spanish career he missed a chance to score the winner and then missed a penalty that would have given Madrid 3rd place. It may have been a new competition but fans don't forget that sort of thing. The following season though McManaman and his team mates put in another Champions League run making it to the final. McManaman had been brilliant throughout this season and he stamped his authority in Spain when he scored a spectacular goal in the final against Valencia, helping his side to a 3-0 win and another Champions League trophy. This final also made McManaman the first ever English player to win the Champions League with a foreign team.
The next season for McManaman at Real Madrid really was a mental one. When Madrid brought in a new president it was clear that key players were going to be sold in order to reduce the debt hanging over the club. Big names like Anelka and Redondo were told along with Steve that they would be moving on. McManaman though knew he had a watertight contract and was adamant he would not be going. Bids and interest from clubs like Fiorentina, Manchester United and Chelsea did not interest Steve one bit and even when manager Del Bosque made it clear he wouldn't play many games at all this season McManaman still refused to budge. Starting the season with no designated squad number it really was a bizarre situation at Real Madrid. With a joke of a scenario going on at their club the fans responded quickly, a poll saw that 90% of the fan base wanted McManaman to stay, whether this had a bearing on key staff at the club who knows but in September of that season Del Bosque brought McManaman on as a sub against Malaga. Slowly but surely McManaman proved he deserved his place and he began to feature regularly. That season Real Madrid won the league and managed to reach the semi finals of the Champions League.
As time went on at Real Madrid for McManaman, offers were still coming in and he was still refusing to leave, his time on the pitch was decreasing but players like Figo and Ronaldo were quick to praise Steve's loyalty and fight in interviews. In 2002 McManaman even further cemented his passion and desire to do well both for and with the club when he scored against Barcelona in the first leg of a Champions League semi final. Real made it to the final in Glasgow where McManaman came on to replace Figo, the game ended 2-1 and Steve had collected his 2nd Champions League winners medal.
In McManaman's final season at Madrid he only started 9 games. Perhaps the most memorable game for English fans saw him feature in a 4-3 loss at Old Trafford in the Champions League. McManaman won another La Liga with Madrid in his final season but with the arrival of David Beckham, the writing was definitely on the wall now for Steve.
A lot of people take the idea that McManaman simply stayed at Real Madrid for the massive benefits applied to his contract. Of course the money he was receiving would have had a bearing on his decisions but I honestly think that the main reason for his stubborness to stay was to prove people wrong. Maybe he was just a money grabber and I can totally see that viewpoint as well but I think when looking at Steve on the whole you can tell what his true character is.
McManaman made a total of 94 appearances for Real Madrid and scored 8 goals.
Manchester City
In Augsut 2003 Steve McManaman signed for Manchester City. Teaming up with the familiar face of Kevin Keegan and playing alongside the likes of Robbie Fowler and Nicolas Anelka, it looked as though Steve would settle right in. His debut came against Aston Villa on the 14th September in a match that saw City win 4-1. Unfortunately McManaman's time at Manchester City was very much one to forget, he never managed to live up to the expectations or find his old form and frustrated fans began to get very annoyed at the player. He dropped down the pecking order very quickly and when Stuart Pearce became manager in 2005 McManaman was allowed to leave on a free. McManaman made 35 appearances for City without scoring once.
England
McManaman played 37 times for England and scored on 3 occasions. He made his debut for England in November 1994 under manager Terry Venables. McManaman like many big club performers never really managed to replicate his club form for his country. He impressed in Euro 96 for a lot of people and even drew compliments from Pele. McManaman was also named in the team of the tournament.
When Glen Hoddle took over as England boss he only gave McManaman 4 appearances. Despite some brilliant club form Steve could not seem to convince Hoddle that he deserved a place and he only appeared once in the 1998 World Cup as a sub. Things got better for McManaman when Kevin Keegan got the England job, in Euro 2000 McManaman found his first goals in his international career scoring twice against Luxembourg in a qualifier. McManaman also scored against Portugal in Euro 2000 but injured himself shortly afterwards and had to be replaced.
Under Sven Goran Eriksson McManaman made some appearances in World Cup qualifiers but was then cruely informed that he would not be in the squad. It was a frustrating time for McManaman in his international career and despite backing from Real Madrid teammates such as Zidane plus stats such as an 84% pass completion rate 15% more than any other midfield option at the time, he just couldn't get in the side and in my opinion this was very much to England's detriment.
In late 2001 McManaman played his final games for England coming on as a substitue in the match against Germany that ended 5-1 then featuring against Albania and finally feauturing as a sub in the qualifier against Greece in 2001.
Life After Football
After his 15 year career in football McManaman moved into media. He featured in the film Goal II in 2007 and was an associate producer. Steve has worked for a stack of TV channels including ITV, ESPN and Setanta.
McManaman is also an ambassador for UEFA. You can also find him playing in a lot of charity football games and in 2009 he stated intentions of completing his coaching badges however it is unclear whether he ever followed through on this idea.
Final Thought
Whatever you think of McManaman whether you think he was just a money grabber doing whatever he could to live the dream or whether you admire his determination to prove people wrong, one thing you can never disagree on is his immense talent.
I often find that many neutral fans have no idea how good McManaman was and often I find this is down to the fact he never really featured for England. It's a shame that a poor international career can have such an effect on one of England's best ever players in my opinion. Maybe I am bias but McManaman was just effortless, magical to watch. What I would give for the current Liverpool side to have such an effective and versatile winger, somebody with confidence who would give his all to the side.
What did you like best about Steve? Or did you never really like him at all? Tweet me your thoughts - @_TheLiverBird
Honours
Liverpool
Real Madrid
Champions League - 99/00, 01/02
Intercontinental Cup - 02
Individual
PFA Team Of The Year - 96/97
Euro Team Of The Tournament - 96
Premier League Player Of The Month - December 97
Champions League Final Man Of The Match - 00